Thrive and flourish with our 90 For Life Healthy Start Pak
True health and wellness is only possible if it radiates from a solid, fundamentally sound center. Although the human body's systems are complex and multi-dimensional, there exists a core group of nutrients that have the greatest influence in support of vibrant health.
These 90 essential nutrients are at the very center of Youngevity's commitment to improving lives through science-based, high quality nutrition. The 90 essential nutrients form the basis for Youngevity's signature Healthy Start Pak™, a set of supplements specially selected for their excellent nutrient content, quality, and efficacy. It includes Beyond Tangy Tangerine®, Osteo-fx Plus™ and Ultimate™ EFA Plus™.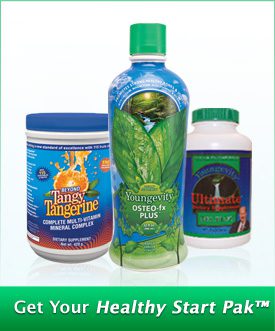 Beyond Tangy Tangerine®
This proprietary multi-vitamin/mineral complex contains our famous Majestic Earth® Plant Derived Minerals™ blended with fruits and vegetables to provide comprehensive and balanced support for the whole body's nutritional needs.*
Osteo-fx Plus™
Osteo-fx Plus™ complements the nutrient profile of Beyond Tangy Tangerine® and is formulated to target the body's physical framework. Osteo-fx Plus™ offers enhanced support for strong bones and healthy joints.*
Ultimate™ EFA Plus™
Strong scientific evidence has documented the beneficial effects of essential fatty acids, from heart health to cognition to eye health.* Ultimate™ EFA Plus™ goes further by offering an organic and truly balanced formula that includes Omega 3, 6, and 9 fatty acids.
* These statements have not been evaluated by the Food and Drug Administration. These products are not intended to diagnose, treat, cure or prevent any disease.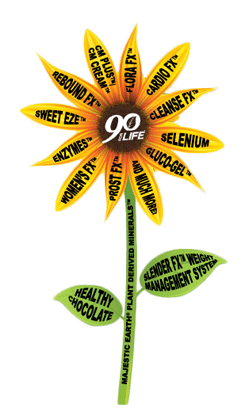 Nutrients to Help Your Health Blossom
The Healthy Start Pak™ provides an excellent nutritional base for people of all ages. But it's just the beginning. Every individual faces different challenges, such as health concerns and daily stresses, resulting in his or her own unique nutrient requirements.
Fortunately, Youngevity offers more than 400 nutrition and lifestyle solutions to meet each individual's specific needs. To illustrate the concept of how Youngevity's products work together in concert, think of a beautiful sunflower blossom:
The center represents the 90 essential nutrients
The stem represents our Majestic Earth® Plant Derived Minerals™
The petals and leaves represent nutritional support for specific health concerns
Together, the center, stem, petals and leaves of the flower form a picture of vibrant and flourishing health!

60 Essential Minerals
Calcium
Magnesium
Phosphorus
Potassium
Sodium
Chloride
Sulfur
Cobalt
Copper
Aluminum
Arsenic
Barium
Beryllium
Boron
Bromine
Carbon
Iodine
Iron
Manganese
Selenium
Zinc
Cerium
Cesium
Chromium
Dysprosium
Erbium
Europium
Gadolinium
Gallium
Germanium
Gold
Hafnium
Holmium
Hydrogen
Lanthanum
Lithium
Lutetium
Molybdenum
Neodymium
Nickel
Niobium
Nitrogen
Oxygen
Praseodymium
Rhenium
Rubidium
Samarium
Scandium
Silica
Silver
Strontium
Tantalum
Terbium
Thulium
Tin
Titanium
Vanadium
Ytterbium
Yttrium
Zirconium
12 Essential Amino Acids
Valine
Lysine
Threonine
Leucine
Isoleucine
Tryptophan
Phenylalanine
Methionine
Histidine
Arginine
Taurine
Tyrosine
3 Essential Fatty Acids
Omega 3 (EPA, DHA, ALA)
Omega 6
Omega 9
16 Essential Vitamins
Vitamin A
Vitamin B1 (Thiamine)
Vitamin B2 (Riboflavin)
Vitamin B3 (Niacin)
Vitamin B5 (Pantothenic Acid)
Vitamin B6 (Pyridoxine)
Vitamin B12 (Cobalamin)
Vitamin C
Vitamin D
Vitamin E
Vitamin K
Biotin
Choline
Flavonoids and Bioflavonoids
Folic Acid
Inositol